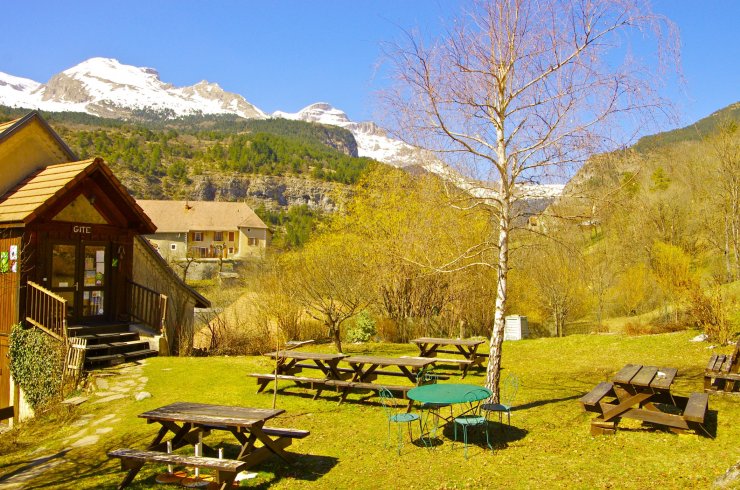 St Disdier's gîte is an inescapable stage of the tour of Dévoluy:
- Enter jarjatte/St Disdier: you will so pass by the highest collar of the tour and the the lowest point of Dévoluy
- Enter Lachaup/St Disdier: forest of beeches, pinédes, high mountain pastures, the stone Baudinard, chaos of block of uncommon stone
And also between St Etienne and Saint Disdier: easy stage (to warm up or to rest them! With the discovery of the complete panorama of the massif (variant to be added?)
Or conversely according to the sense of your route, naturally ...
Variants are possible or by coming from St Etienne or from St Disdier:
- The col of Aup (1 680 m): remarkable garden of height with a view of the North:  the lake of Sautet, north point of Cases and Vercors (1:45 am round trip)
- The Peak Pierroux (2 377 m): summit for the amateurs of fantastic view
- St Disdier-col of the Aup-les gillardes-St Disdier: the loop by gillardes with a very rich flora on both sides of the col : 5 hours 
And the ascent to go away - return of Obiou 1 additional day
Also discover surprising visits:
 - The gorges of Souloise, famous resurgences of Gillardes and canal of Pellafol (plan lamp and boots)
- Mother Eglise, Romanic chapel dating the 11th century, discovered by its inside (by appointment or during guided tours certain days in July-August) and of his cemetery where René Demaison rests among premises.
In quite soon!